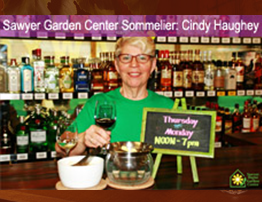 Wine Tastings
Wine tasting hours:
Fridays: 4pm - 6pm
Saturdays: Noon - 6pm
Sundays: Noon - 6pm
Sawyer Garden Center will hold wine tastings at the store location. We hope you'll join us in this serene environment for great conversation and award-winning wines.
Check out our location map for help finding us. Be sure to sign up to our email list for other wine tasting events that will be coming soon.