Expert Articles & Advice
July 23, 2015
Introducing our new series "Buzzing with Bee! " Learn about the life cycle of butterflies. How to identify the different stages of growth.
July 15, 2015
When and how to prune hydrangeas can be a tough question to answer. The right way to prune this plant depends on a couple of factors; the species, old wood or new wood, and how you want the bush to look. For the most part hydrangeas only need to be cut after the flowers fade through August 1st.
Special Events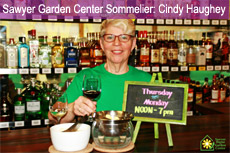 Great Wines and Conversation
We are doing tastings Thursday-Monday from Noon-7pm. Every Week! Sawyer Garden Center will hold wine tastings at the store location. We hope you'll join us in this serene environment for great conversation and award-winning wines.
Check out our
location map
for help finding us. Be sure to sign up to our email list on the left for other wine tasting events that will be coming soon.