Expert Articles & Advice
September 30, 2015
Your vegetable garden will need special attention now that the season is changing. Make sure all frost-sensitive plants are completely harvested before the first frost. If you are eager to extend the harvest you can cover plants with a blanket on nights when frost is predicted.
September 3, 2015
It is that time again! The hummingbirds are getting ready to migrate south for the winter. Are you ready to help these little guys out? You can cater the hummingbird population easily with Dr. JB's clean feeder!
Special Events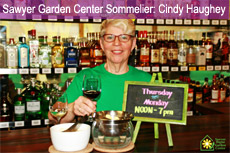 Great Wines and Conversation
We are doing tastings Thursday and Friday: 4-7pm and Saturday and Sunday: Noon-7pm. Every Week! Sawyer Garden Center will hold wine tastings at the store location. We hope you'll join us in this serene environment for great conversation and award-winning wines.
Check out our
location map
for help finding us. Be sure to sign up to our email list on the left for other wine tasting events that will be coming soon.
Sawyer Videos
How To: Bulb Picking
Learn how to pick out the right bulbs to plant in the Fall for beautiful blooms in the spring!!