Expert Articles & Advice
January 22, 2015
If these cold winter months have you dreaming of colorful spring days, turn your dreams into reality! The days are slowly getting longer, the holidays are over so… start planning your spring garden now!
January 14, 2015
This dip is the spicy combination your taste buds have been looking for. Add some fire to your tortilla chips with this blend of fresh jalapeños and cheese. A match made in heaven. Make this for your friends on game day, or bring it to a weekend get together.
Special Events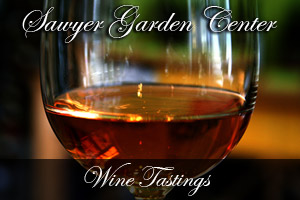 Great Wines and Conversation
We are doing tastings Friday from 4pm-7pm, Saturday from Noon-5pm and Sunday from 1pm-4pm. Every Week! Sawyer Garden Center will hold wine tastings at the store location. We hope you'll join us in this serene environment for great conversation and award-winning wines.
Check out our
location map
for help finding us. Be sure to sign up to our email list on the left for other wine tasting events that will be coming soon.