Expert Articles & Advice
March 3, 2015
We have just over two weeks until it is OFFICIALLY spring, and don't forget this Sunday is Daylight Savings Time! Things in the store are slowly changing. The Christmas trees are coming down and the bright greens and yellows are coming out!
February 23, 2015
Kalettes! Introducing an exciting NEW vegetable that is a cross between Brussel sprouts and Kale! This mashup created a vegetable with a deliciously sweet and nutty flavor! Plus, they are extremely versatile and can be cooked in many different ways. AND, they are certified Non-GMO!
Special Events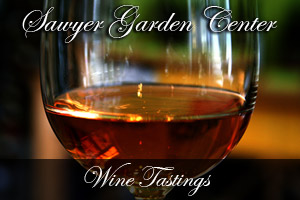 Great Wines and Conversation
We are doing tastings Friday from 4pm-7pm, Saturday from Noon-5pm and Sunday from 1pm-4pm. Every Week! Sawyer Garden Center will hold wine tastings at the store location. We hope you'll join us in this serene environment for great conversation and award-winning wines.
Check out our
location map
for help finding us. Be sure to sign up to our email list on the left for other wine tasting events that will be coming soon.