Expert Articles & Advice
March 26, 2015
In an age where things are more convenient but less natural, it is always a good idea to show kids the not-as-easy way of doing things. Buying a kit with dyes in it is very easy and convenient, but naturally dying eggs can be more time spent interacting and learning.
March 11, 2015
Once the weather breaks and the earth begins to thaw every single persons' mood changes. I could tell immediately when I worked the front counter this past weekend. Usually when I work the register I will get a few customers who are a little… grumpy.
Special Events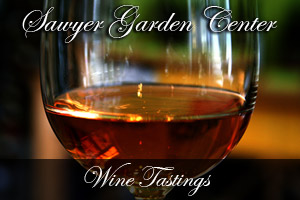 Great Wines and Conversation
We are doing tastings Friday from 4pm-7pm, Saturday from Noon-5pm and Sunday from 1pm-4pm. Every Week! Sawyer Garden Center will hold wine tastings at the store location. We hope you'll join us in this serene environment for great conversation and award-winning wines.
Check out our
location map
for help finding us. Be sure to sign up to our email list on the left for other wine tasting events that will be coming soon.