Expert Articles & Advice
April 15, 2015
The best way to maintain a weed free lawn and garden is to prevent them from starting in the first place. Nothing beats Preen's specialized weed preventing formula! With one simple application your landscape is protected from over 200 broadleaf and grassy weeds.
April 8, 2015
At the end of the month the nectar feeding season will be upon us! Hummingbirds and orioles have begun their journey to return to their breeding grounds. Some have already reached Indianapolis! Check out this migration map from hummingbirds. net.
Special Events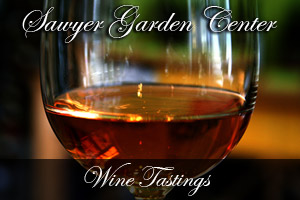 Great Wines and Conversation
We are doing tastings Friday from 4pm-7pm, Saturday from Noon-5pm and Sunday from 1pm-4pm. Every Week! Sawyer Garden Center will hold wine tastings at the store location. We hope you'll join us in this serene environment for great conversation and award-winning wines.
Check out our
location map
for help finding us. Be sure to sign up to our email list on the left for other wine tasting events that will be coming soon.