Expert Articles & Advice
December 17, 2014
Artichoke Chicken Spread Bring this retro dish to Christmas this year and I guarantee it will be a crowd pleaser! What you will need: 12 oz. Chicken breasts, skinless, boneless, cooked & shredded 14 oz.
December 9, 2014
Sigh, another Christmas Open House has come and gone! Thank you to everyone who came to share the Holiday spirit with us. I had a wonderful time visiting with customers and even more fun on the radio! In case you missed it here is what happened at our Christmas Open House Extravaganza!
Special Events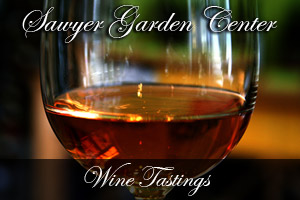 Great Wines and Conversation
We are doing tastings Friday from 4pm-7pm, Saturday from Noon-5pm and Sunday from 1pm-4pm. Every Week! Sawyer Garden Center will hold wine tastings at the store location. We hope you'll join us in this serene environment for great conversation and award-winning wines.
Check out our
location map
for help finding us. Be sure to sign up to our email list on the left for other wine tasting events that will be coming soon.