We're crazy about blueberries at Sawyer Home & Garden Center! Now is the time to stock up and freeze some blueberries so you can enjoy them for a long time!
You can pick up a 5 or 10 pound box from our Famers Market everyday between the hours of 8:00am and 8:00pm.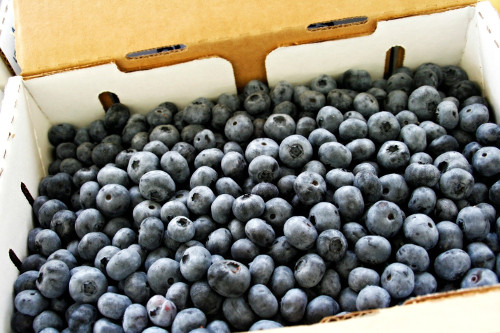 Once you get your blueberries home, rinse them in a colander and remove all stray leaves and stems. Pat them dry and place a clean dish towel on a baking sheet to prevent them from sticking. Then place the berries on the towel in a single layer. This baking sheet will need to lay flat in your freezer. Ideally, the berries should touch as little as possible.
Place your baking sheet of berries in your freezer. Wait about 4 hours for the berries to freeze all the way through. Then choose what containers you will use to store them. If you use plastic, make sure all the excess air is removed before sealing to help prevent freezer burn. Try using a straw in the plastic bag to suck out all the air! If you use glass, just shake the jar before opening! Blueberries tend to thaw quickly so there is no need to try to thaw them before a recipe.
Jars of blueberries make great gifts! Just tie a ribbon around them!
Or make a Blueberry Crisp! It is super easy!
Fill a pie plate with blueberries. In a bowl mix ¾ cup brown sugar, ½ cup flour, 1/3 cup butter, softened, 1 cup oats ¾ teaspoon cinnamon with a fork. Crumble this mixture over blueberries and bake for 30 minutes at 375ºF.
HURRY IN NOW! BLUEBERRY SEASON WILL BE OVER BEFORE YOU KNOW IT!
Thanks for reading!
Your friends at Sawyer Home & Garden Center