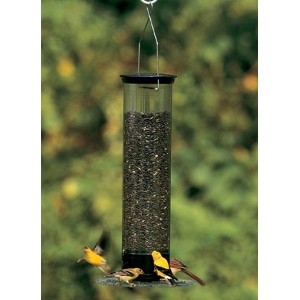 Squirrel Proof Birdfeeder Droll Yankee Tipper
Description
Save money on seed with a Yankee Tipper!
Now with Microban antimicrobial technology to fight the growth of damaging bacteria, mold, and mildew.
The Tipper's 10" diameter weight-sensitive feeding tray attracts ground feeding birds, but tips under the weight of a grey squirrel*
Can hold the weight of up to four cardinals (about 8 oz.)
The large tray also collects fallen seed and serves as a platform that allows multiple birds to feed simultaneously from the four seed ports.
The heavy metal cap fits snugly on the tube to prevent squirrels from lifting it to reach the seed.
The Tipper looks stunning in any yard, with a metal top and base powder coated in Midnight Black
With a large 5 lb. capacity, you don't need to refill your feeder every day
Hang the Tipper securely from its heavy duty signature looped stainless steel wire, which reduces motion.
Lifetime Warranty against squirrel damage.
Rates
Please contact us for current pricing and availability.